SUPPLIERS
More intelligent, more mobile, more connected and more sustainable: the world is evolving every day. VINCI Energies carries out numerous projects that contribute to improving daily life and shaping the world of tomorrow.

Our standards and values
Our deeply-rooted values (entrepreneurial spirit, empowerment, responsibility, trust and solidarity) are the driving force behind our culture of service and the management model of VINCI Energies. They also constitute a source of inspiration for our policy on social and ecological responsibility.
We want to be a responsible partner in society, acting with integrity toward employees, customers, business partners and shareholders, but also toward the broader community in which we are active. It is part of our way of thinking and acting to also be concerned with the society in which we live. We have therefore made a commitment to society through the Fonds VINCI, founded in Belgium in 2012, with which we help to combat every form of exclusion, to give everyone in our society his/her own place, role and dignity

Our purchasing policy
Because our vision of success goes further than the basics, we are committed to the ecological, social and civic performance of our business.
VINCI Energies is committed to integrating sustainability criteria, in addition to criteria such as quality and price, into the purchasing procedures of all purchasing departments. Our relations with our suppliers are based on transparency, clear responsibility and trust.
We do business with partners who are committed to acting fairly and with integrity, with whom we observe the highest ethical standards.
In our Code of Ethics and Conduct we formally establish a set of rules of conduct that apply to all our companies and all our employees. It is applied in combination with the anti-corruption code of conduct. VINCI employees must adhere to this framework in their activities to prevent corruption. These rules are also applicable to our collaboration with suppliers and subcontractors.
In 2003 VINCI signed the United Nations Global Compact, and in so doing promised to support and foster the observance of human rights in its sphere of influence. As an international group, VINCI works with many employees who are employed directly or via subcontractors in its projects and companies. The attention we devote to human rights is an integral part of our humanist culture. We always give priority to people over systems. We are convinced that our teams constitute our primary asset, because it is due to their quality and commitment that our businesses make the difference with their projects and worksites. Our decentralised organisation and our management style arise from these humanist values; they make use of individual and collective initiatives in the field insofar as possible, and rely on trust, respect and solidarity to foster the professional development of our employees. We strive to share this vision not only with our own teams, but also with all the suppliers and subcontractors who work on our projects and worksites.
Shared vision

We want to collaborate with suppliers and subcontractors who share our commitment to sustainability. We want to make a difference through corporate social responsibility, by means of sustainable inventory management and responsible purchasing. This is more than just managing compliance; it involves collaborating with our partners to have a positive and sustainable impact.
We also have our CSR procedures assessed by EcoVadis. EcoVadis helps us stay aware so that we can keep our CSR management system up to standard and improve it where possible.
The aim of EcoVadis is to evaluate the quality of the CSR management system on the basis of our policies, measures and results. In doing so, they also evaluate us on the topics of environment, labour practices and human rights, fair trade practices, sustainable purchasing and application of the ethical and professional codes in relation to the companies of our group.

Creating added value together with our suppliers and partners
We are convinced that long-term relations with our suppliers and partners are essential to respond to the market faster and better.
Together, we strive for continuous improvement and operational performance. We expect our suppliers and partners to meet the highest standards in the areas of quality, ethics and sustainability. With this in mind, we will integrate sustainability criteria into the selection process for our suppliers.
Purchasing portfolio
Purchasing of materials and services often takes place on a project basis. Purchasing represents approx. 55% of the sales turnover of our companies; 45% of this is services and subcontracting and 55% of our purchasing volume is devoted to materials.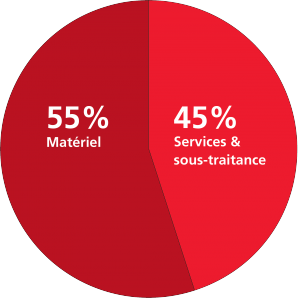 Would you like to collaborate with VINCI Energies or its subsidiaries?
If you are an existing or new supplier/subcontractor of VINCI Energies Belgium or its subsidiaries, or if you have innovative proposals, contact us via the form below:
"*" indicates required fields