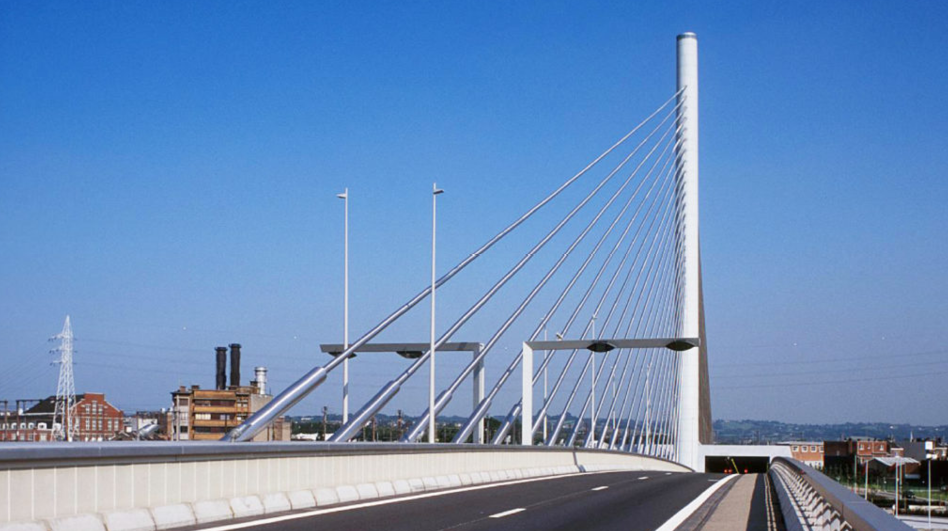 Some references
Our satisfied customers include large corporations, reputable institutions and world famous brands. Below is a selection of companies we have worked with in recent years.
Companies of all sizes choose Cegelec to take care of their infrastructures.
Smart City | Proxibus
Waterloo Proxibus users benefit from a handy new feature. Since September 2020, it is possible to geolocate the two free municipal buses via your mobile. This allows commuters to better plan and adjust their trips within the region. In addition to being convenient for travelers, this system also has advantages for drivers and the operator. The municipality of Waterloo has entrusted Cegelec with the realization of this complete turnkey solution.
Mobility | Hyperion
Infrabel entrusted Cegelec with the creation of a system for verifying topographic railway surveys. The Hyperion project have optimized train safety. In order to further secure the rail network and train traffic, Europe has adopted the ETCS (European Train Control System). Belgium is one of the first countries to apply this standard for signalling and controlling train speed.
Aerospace | PF50 – ArianeGroup

Revamping of a wired control panel of a rocket engine test stand for Ariane rockets. Replacement by a digital mimic with tactile HMI (Human Machine Interface), developed with safety tools (SIL):
Additional security provided by a tactile release button
Flexible solution: easy modification of layout and configuration
Signalisation | Centre PEREX
The Federal Road Police and its partners monitor and manage traffic on the main roads in Wallonia from the PEREX centre in Namur. This platform centralizes images from all cameras, responds to emergency calls and provides traffic information through various channels.
Multi-system transition (variable message sign, vehicle counting, job identification, etc.) centralized Traffic Management tool with a uniform communication interface
Public safety | Video surveillance system for the Brussels police

To strengthen security in the north of Brussels, Cegelec has set up a brand new video surveillance system: 27 km of fiberglass optimizes data transmission within the Brussels police. Thanks to the 133 cameras installed, the analysis of data and images will essentially make a city more secure for both its citizens and its businesses.
Mobility | Strépy-Thieu boat lift

Cegelec was involved in the construction of the structure at the end of 2000 and is still responsible for its technical maintenance (electromechanical, automation, electricity, hydraulics). Since 2002, we have maintained a lasting relationship and a true partnership with our client. Cegelec engineers go the extra mile in order to optimize the performance and reliability of the installation.
Smart technology | Energy management

Cegelec EMS is a modular platform for energy management applications. It is developed around the needs of monitoring, control and integration of energy storage with renewable energy sources and additional devices and services such as recharging stations for electric vehicles, heat pumps, electrolysers, electricity prices according to the time of consumption, etc.
Mobility | New tram depot in Brussels

Given the large number of vehicles, 75 trams of 32 or 43 meters long, which can circulate and the size of the number of possible movements, the depot is equipped with a computer system for the management and supervision of movements intended to optimize the circulation of trams. This system is produced by Cegelec in collaboration with Mobility, a VINCI Energies company.
Urban signage and transport | Infrabel / Tuc Rail signaling

Improving safety in the rail infrastructure: The old installations of the Brussels lines Nord-South, La Louvière and Namur-Ciney no longer met safety standards and needed to be renovated. This upgrade also included the control cabinets.
Smart technology | Baggage handling system at Lux Airport

Baggage sorting is carried out automatically in dedicated target lanes assigned to the various flights. The baggage sorting hall has 26 target lanes. Cegelec was responsible for the implementation and supply of all mechanical, electrical and control components (hardware and software) necessary for the operation of the baggage handling system.
Mobility | Connection of the Liège E40 and E25 motorways

In order to resolve traffic congestion in the Liège region, a major motorway link between the E40 and the E25 was built at the end of the 20th century. The most famous part of the project is the Cointe tunnel, which was built to reduce traffic in the city center. More than 25 million vehicles use this connection each year, or 73,400 vehicles per day. Cegelec has participated in the engineering, installation and commissioning of electromechanical solutions and, since the inauguration, has been assisting the SPW in the electromechanical maintenance of this motorway link.
Public safety | Spare electronic board

Cegelec is responsible for the supply, repair and maintenance of electronic equipment for control systems in the Tihange and Doel nuclear power plants. We provide replacement boards while our highly trained technicians repair faulty boards in our on-site electronics lab.