Infrastructure projects
Belgium
New tram depot in Brussels
For its new tram depot in Brussels South, the Brussels Intercommunal Transport Company (Société des Transports Intercommunaux de Bruxelles, STIB) will be working with Mobility and Cegelec Infra Technics, two VINCI Energies business units.
Mobility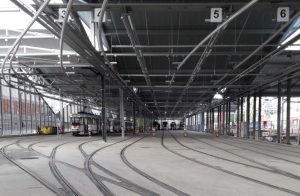 will provide an automatic train control installation and carry out the operating safety studies for the Marconi depot which can park seventy-five 32 and 43 meters long trams and provide maintenance for ten trams. Mobility is also responsible for providing a real-time computer-assisted simulator for validation of the complete system.
Given the large number of vehicles involved and the huge number of possible movements, the depot will also have a computerised traffic monitoring and management system to optimise tram traffic. This system is produced by Cegelec Infra Technics.